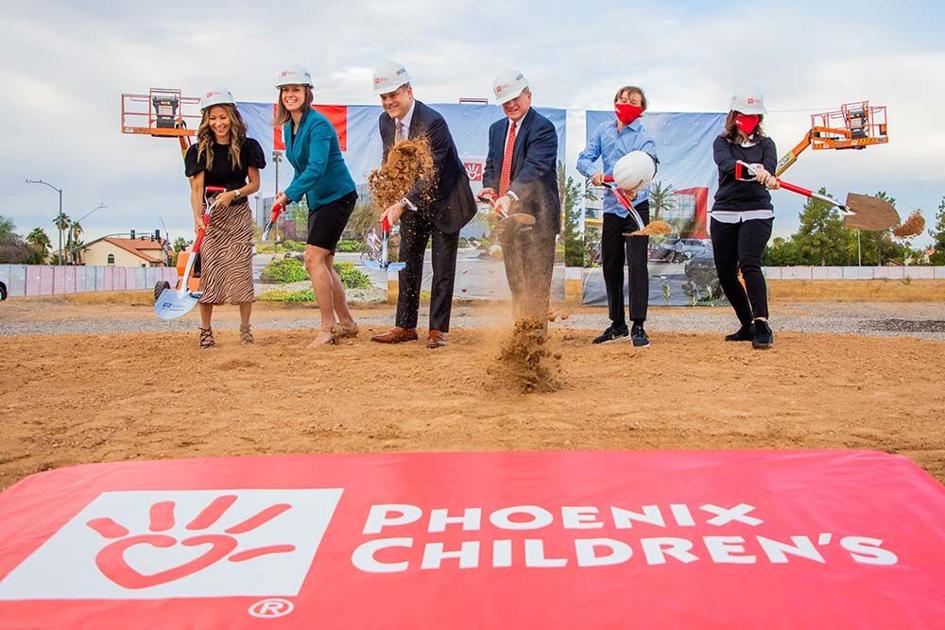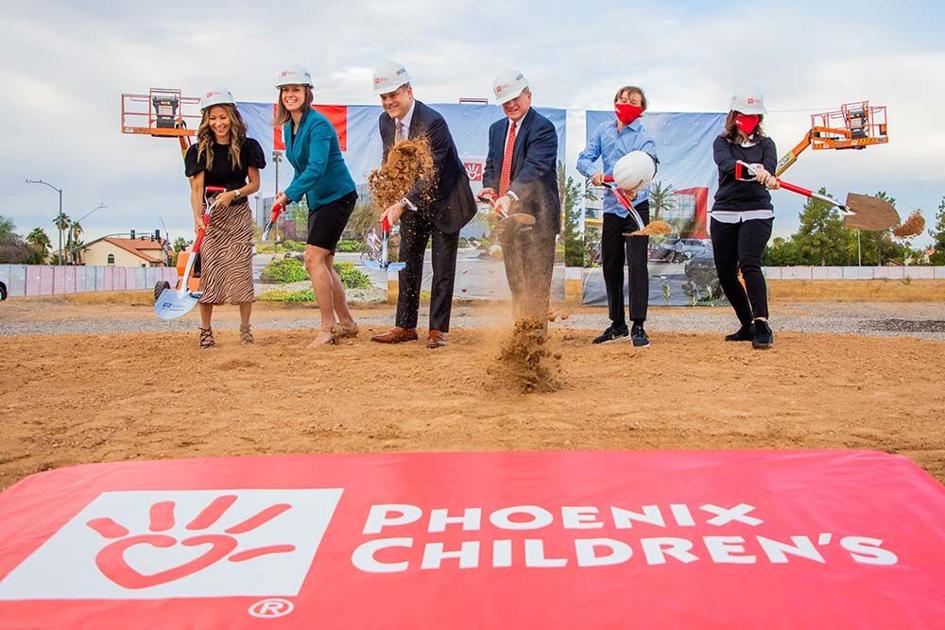 Phoenix Children's Hospital broke ground on November 9 for its Arrowhead satellite campus in Glendale.
Children and families need and deserve world-class pediatric health services, right in their own communities.
That was the sweeping theme of the foundation stone laying ceremony for the Arrowhead Campus at Phoenix Children's Hospital on November 9, when President and CEO Robert L. Meyer addressed community and business leaders, elected officials, and Phoenix Children's staff and patient families.
Located at 18701 N. 67th Avenue in Glendale, the new campus will provide a full range of pediatric healthcare through its 180,000 square foot hospital and 45,000 square foot multi-specialty clinic.
Services include inpatient care, an emergency room, state-of-the-art imaging, inpatient and outpatient surgery, and a multiple clinic with expanded services in more than 25 specialties, including cardiology, oncology, orthopedics and behavioral medicine.
At the groundbreaking ceremony, Dr. Heather Menzer, orthopedist and sports medicine specialist at Phoenix Children's.
"This new campus means that children in the West Valley can receive surgical and medical care from clinicians who know exactly how to treat injuries and illnesses in children, how to put IV on a tiny patient, and how to deal with seizures and other frightening medical conditions Situations. "She said.
"Pediatric care is important because children are not little adults. They have different medical and developmental needs and deserve the care that is the right size for them. "
Meyer added: "Children who need special treatment for heart disease, cancer or mental health problems can visit our clinic here on this campus."
Sun City resident Melissa McQueen mother of three, including 13-year-old Dylan, who was born with dilated cardiomyopathy, a congenital heart disease, says the value of providing specific pediatric care close to home cannot be overestimated .
"During Dylan's first year of life, my husband and I spent many days either in a hospital clinic or in an inpatient facility with our son," she said. "The drive was long for us and that has subsequently taken more time from our other children and our family life as a whole. It would have been life-changing if the appointments had been attended to several times a week in the vicinity of the house. "
The multi-specialist clinic will open in spring 2023. The hospital follows a year later. Phoenix Children's is investing $ 134.7 million in the new campus, which will allow 76,000 visits a year and bring nearly 500 jobs to the West Valley.
Phoenix Children's Hospital – Arrowhead Campus is one of three West Valley projects the health system announced in the past few months. According to Meyer, this is all part of a multi-layered strategy to bring care for local families closer.
"Maricopa County is # 1 in the nation for population growth," he said. "The West Valley in particular is booming. The population is projected to grow twice as fast as nationwide in the next five years – and children are a large part of that growth. You deserve the best healthcare. "
In the summer, the health care system broke ground on the Phoenix Children's – Southwest Campus, a freestanding emergency room and multi-specialty clinic in Avondale. And in January, the Phoenix Children's Sports Medicine Clinic opens at the BLVD in Avondale to meet the needs of young athletes.
Phoenix Children's expansion in West Valley represents a $ 200 million investment and more than 650 jobs.
"For families in the West Valley, this means no drive to Phoenix, no delays in medical care, and access to clinicians who work here in this community who have dedicated their lives to caring for children," added Menzer. "These are the same doctors and nurses who helped Phoenix Children's achieve the US News & World Report Best Children's Hospital ranking for 11 years in a row."
For now, the Phoenix Children's executives are keeping an eye on the growth in the greater Phoenix area and are preparing to announce new locations. In the meantime, they are focusing on building their West Valley campus.
"We can't wait to serve the families in this community," said Meyer at the end of the ceremony. "It's an important day for us at Phoenix Children's and for the West Valley. We are grateful for the people and partners who helped us get here and look forward to playing a bigger role in this vibrant area. "
[ad_2]