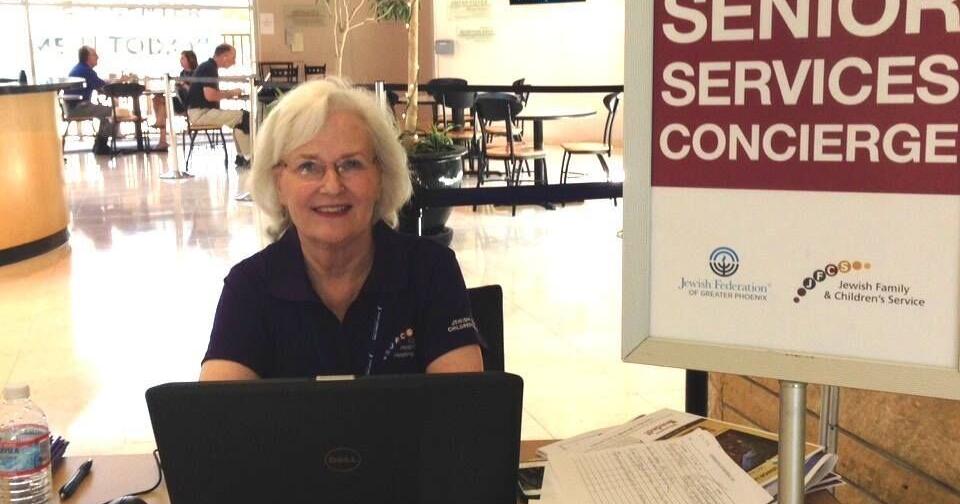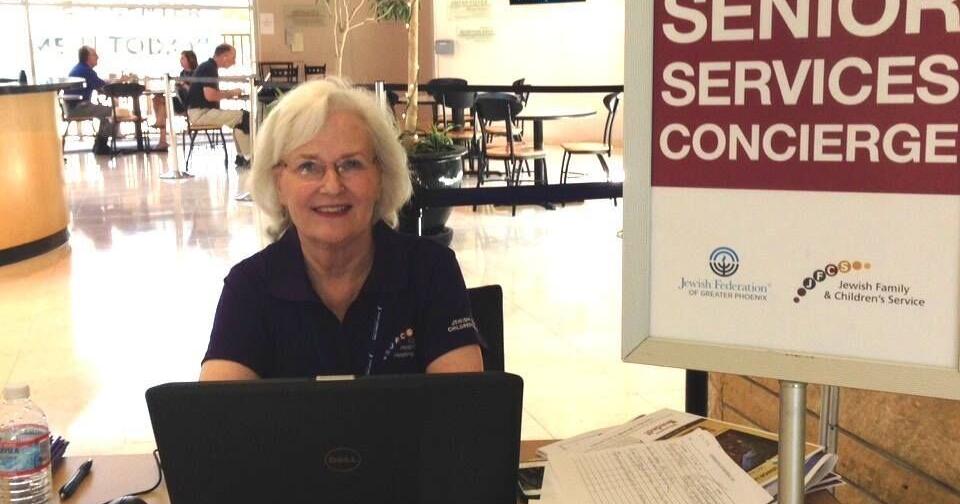 Janet Arnold Rees, Senior Concierge and Creative Aging Coordinator for the Jewish Family & Children's Service, died on November 23rd.
Rees was born in South Bend, Indiana, the youngest of six children to Harry and Esther Shcolnik. In 1957 she moved to Phoenix with her family.
"I'm a shirt-sleeved cousin of Rabbi (Albert) Plotkin," Rees, whose family became members of what was then the Beth Israel Temple, told Jewish News in 2007. "He was the first one who met us when we got off the train when we moved here.
"We lived on the outskirts, on Glendale and Third Avenues," she recalls. "I couldn't get rides home from the JCC because it was so far out on 16th Street and Camelback Road."
Her presence in the Greater Phoenix Jewish community was ubiquitous over the decades, and she held various positions in various Jewish organizations and started a Jewish theater company that would last for 25 years.
In 2019, Rees told JN that she found an old edition of the newspaper and saw an article from the 1990s that featured it.
The article quoted her as saying that her dream at the time was "to develop a cooperative Jewish leadership that emphasizes the needs of Jewish education and social services, and uses theater and the arts to promote pride in our cultural heritage to preserve".
More than 20 years later, she asked JN, "Do you want to know what's funny? This is still my dream. It hasn't changed at all. "
After touching many lives during her life in Arizona, many would likely agree that she made her dream a reality. And much of her most personal and important work has been the theater, although getting on stage was a cumbersome one.
She taught high school English at Glendale High School for a number of years and later was the director of early childhood education at the Jewish Community Center, located on Maryland Avenue in Phoenix.
Rees, mother of two sons, has incorporated her intelligence and people skills into personal and business success.
"I took a year off from JCC and was assistant to Hattie Babbitt in Bruce Babbitt's campaign for president (1987)," Rees said. "Politics is as close as possible to the theater. It was great."
Aside from appearing in some youth productions at the JCC as a teenager, Rees didn't focus on theater until much later.
"I didn't know there was Jewish theater," she said.
Around the same time, Rees starred in a co-production at the now defunct Glendale Little Theater, directed by Bob Walters.
In March 1987, she and her older son Josh celebrated a joint B'nai Mitzvah at Temple Beth Israel.
While Rees was preparing for her bat mitzvah, Walters asked her to work on another piece. Rees was too busy but told him she would get him a rehearsal room at the JCC.
"He called me to thank me for getting the room," Rees recalled. "He said, 'I found a book with three Jewish plays (by Israel Horovitz) and I want to give one back as a gift to the Jewish community.' So I read these plays and said, 'Let's start a Jewish theater.' "
Meanwhile, Rees was accepted into the law school at Arizona State University. "I thought, 'Lawyer? Actor?' Well, lawyers aren't having fun so I got into the theater. I always thought I could run a haulage company if I had to. "
Then she learned about the Association of Jewish Theaters (AJT) through an article in Hadassah magazine. "I had no idea. I called and they had a conference in New York City that I went to. Now I had a network of people. It wasn't just Horovitz's work, there was this whole world." out there. "She later also served as president of AJT for a period.
1987 was already a busy year for Rees when a non-Jewish friend approached her about staging a Jewish trilogy by the American playwright Israel Horovitz.
Inspired, Rees sent letters to family and friends soliciting donations for the production of the pieces. With $ 4,000, the Arizona Jewish Theater Company was born. Its first production took place in December 1988 at the Stagebrush Theater in Scottsdale.
Despite financial ups and downs, Rees was able to keep the theater open for the next 25 years. But in the summer of 2012 she had to finally close the curtain on the theater for lack of money.
In an email, she explained the reality to her subscribers:
"Government and corporate support has virtually disappeared, individual posts have declined, and with all of our moves, our audience has shrunk. So we're closing the shop."
She later told JN, "I saw no way of bringing in money. I couldn't do that anymore. It just seemed to me that it was time. "But the decision was difficult for me.
"It's hard. I would oppose a divorce or a death any day," she said.
But that was far from the end of her career in the Jewish community.
In 2015, Rees was hired by JFCS to lead the then-new Senior Concierge program. Their task was to network with senior centers, independent residential facilities, synagogues and Jewish agencies. Until the COVID-19 pandemic, she was stationed at the Martin Pear JCC, where she also answered walk-up requests and introduced senior citizens of the facility to the program.
After starting her job, she told JN what the performance sometimes looked like. "I have people with yoga mats under their arms walking out the door, turning around and coming back and saying, 'You know? I was just wondering … '"
She described her work with JFCS as a "tag team".
"The Jewish Family and Children Service has had a wonderful information and mediation service for the last 15 years that Kathy Rood (JFCS's Jewish Programs Manager) has run," Rees said, but added that people tend not to call JFCS directly. "Unless you are in crisis. You know, they tend to think that [calling] Jewish family and child service means it has to be really, really serious, and that's why I offer that nice kind of middle ground. If it gets too much for me, I'll give it to Kathy and Kathy can then help you more specifically with the more difficult things, but I'll be that channel. "
The pandemic hit seniors especially hard as the focus suddenly shifted to using technology without face-to-face contact. As a senior citizen, she admitted to JN in 2020 that she was very panic about accidentally touching the wrong button and deleting everything.
"I feel it on my shoulders every day – the fear that I'll click the wrong thing and the world will explode," she said. This idea is "ubiquitous". Even so, she pushed ahead and learned Zoom to continue with creative aging classes as well as virtual cafes that replaced face-to-face meetings for people with dementia with their partners.
Their customers ranged from 65 to 93 and were mostly able to use platforms like Zoom and FaceTime. She wondered that one morning a 93-year-old had figured out how to add a new background to her Zoom calls. Seeing how many people made advances in technology when others told her it was unrealistic to run a program for Holocaust survivors on Zoom gave her the optimism to move on.
During the pandemic, Rees was able to bring two of her loved ones together when she coordinated a play and performed it live but it was broadcast on Zoom. Together with Ed Asner, star of "The Mary Tyler Moore Show" and "Lou Grant" as well as the Pixar film "Up", Rees performed the piece "Hunker Down". Asner also passed away this year.
The play is about and primarily for older adults who seek protection on the spot – duck – and have to deal with loneliness and the isolation caused by COVID-19.
Rees told Jewish News that isolation is a reality that terrifies her and others who work with seniors as it leads to cognitive decline, emotional decline, and depression. By working with JFCS, she saw firsthand how important the topic was to her and her clients.
"Above all, the woman just goes nuts and wants to have contact with people – even if the contact is two meters apart, they are at least breathing the same type of air," said Rees.
Although the inimitable and vibrant Rees was not really put on hold by the pandemic, she was excited and happy to be able to invite seniors back to the Palazzo this summer to personally enjoy the JFCS Senior Enrichment Center events again.
"I need that energy from people," Rees told JN in July. "People have to laugh together and experience things together – we are a community."
Rees was still working when she died. Over the years she has also been an associate editor of Arizona Jewish Life and has served on the boards of the Greater Phoenix Jewish Film Festival and the Arizona Jewish Historical Society. JN
Janet's funeral will take place on Friday, November 26th at 2:30 p.m. in the Sinai Morgue.
Here is a link to Janet's 2008 interview for the Arizona Memory Project: https://vimeo.com/58914281
[ad_2]